Seize the moment to deliver a green economic transformation, says Greenpeace – First hologram march in the European Capital
*** Action photos and videos are available here.
European leaders met virtually on Thursday to discuss the EU Covid-19 response and how to raise funds. They agreed to establish a recovery fund.
Greenpeace EU Covid-19 spokesperson Faiza Oulahsen: "We don't need an economic recovery – we need full system change to address all levels of crisis, whether caused by a virus, inequality, the climate disaster or biodiversity loss. The money the EU raises now to tackle the Corona crisis must also be an investment in addressing the ongoing climate and biodiversity crises and make European economies more equal, just and resilient. Investments in public and greener forms of transport, ecological farming and renewable energy systems creates sustainable jobs and wellbeing for all generations."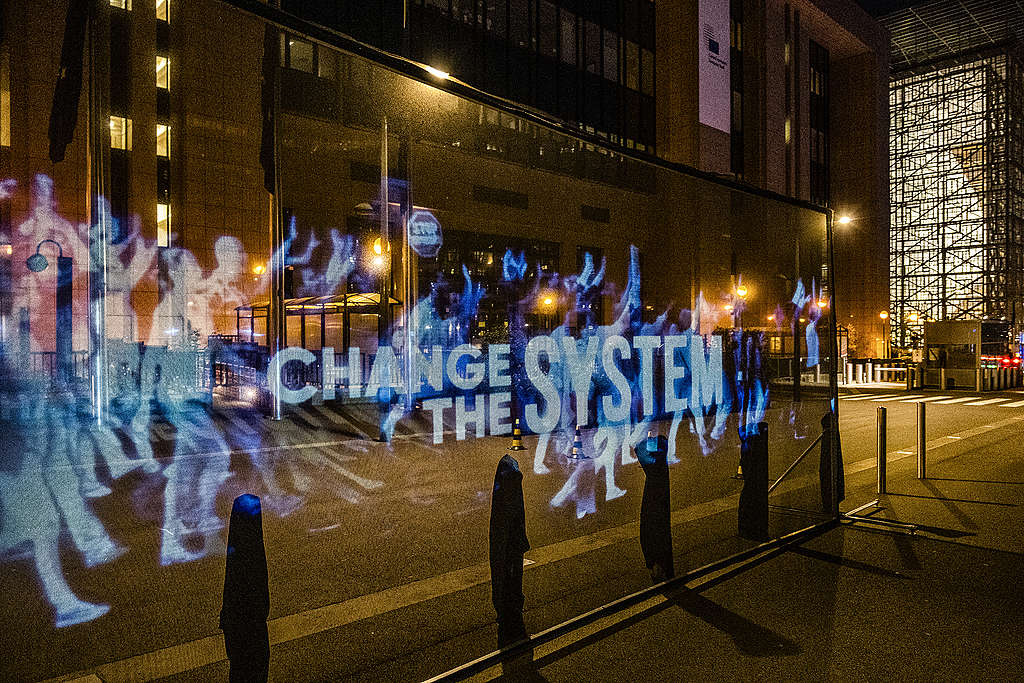 In its inaugural European Green Deal package, the European Commission set the stage for an environmental transition. Two weeks ago seventeen governments from across the EU issued an open statement calling for a green recovery as a response to the Covid-19 crisis and the resulting economic downturn.
Greenpeace Belgium protested by projecting a hologram demonstration for the first time ever in Brussels in front of the EU Council building. As Covid-19 protective measures are limiting public protest, this virtual march sends the vital signal to European decision makers "Bail out people not corporations, we won't stay quiet! Change the system: invest in people and planet, not polluters". Greenpeace is contributing this hologram to the global digital climate strike taking place today Friday, April 24, led by Fridays for Future.
The EU response to the Covid-19 pandemic must focus on saving lives and help make our societies fairer, greener and more resilient to future crises. Greenpeace has warned that to sustainably address today's health, climate, biodiversity and democratic crises, a full social and economic New Green Deal centred on care for people and planet is required.
Oulahsen continued: "Multinational companies are already in line with their hands out. But public support to major companies must not be a free-for-all without any strings attached. Companies must not be allowed to use taxpayer money to pay shareholder dividends or CEO bonuses and must be obliged to provide credible plans to contribute to the decarbonization of the economy in line with the Paris Agreement."
*** Read our briefing on how the EU's response to the Covid-19 pandemic could make our society more resilient in the face of crisis, including health, inequality, climate and biodiversity.
*** Action photos and videos are available here.
Contacts:
Faiza Oulahsen – Greenpeace EU Covid-19 spokesperson : +31 (6) 52 39 14 28, faiza.oulahsen@greenpeace.org
Greenpeace EU press desk: +32 (0)2 274 19 11, pressdesk.eu@greenpeace.org
For breaking news and comment on EU affairs: www.twitter.com/GreenpeaceEU
Publish your Press Releases
Interested in our free daily E-news