EU summit: Covid response shows climate action is possible
Brussels – The unprecedented response to the coronavirus pandemic is proof that governments can take radical climate action, said Greenpeace as European government leaders met at a summit in Brussels to discuss a higher EU greenhouse gas emissions reduction target for 2030.
Greenpeace EU climate policy adviser Sebastian Mang said: "The coronavirus crisis has shown that EU governments can act quickly and listen to science when there is an emergency. The climate crisis requires an emergency response too – and a truckload of political will. We are facing temperature increases that are endangering our water reserves, threatening food supplies, increasing floods and droughts, and making pandemics much more likely. Our house is on fire, we cannot afford to waste time with another summit of empty words."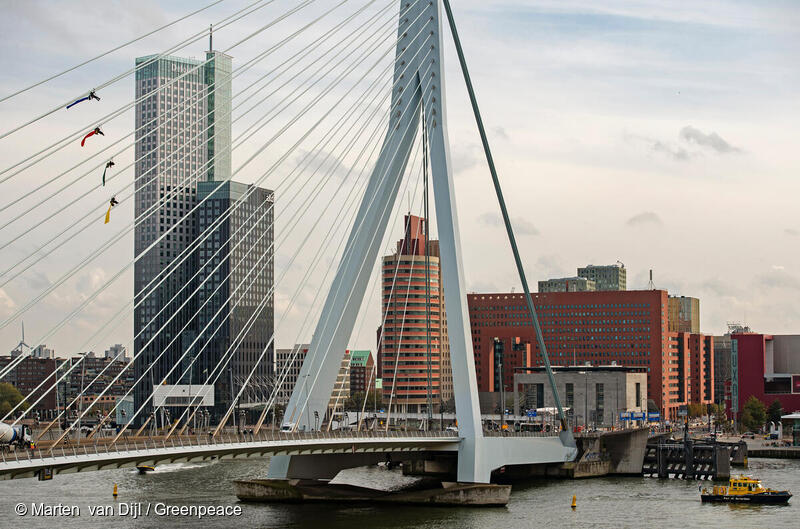 Under the Paris climate agreement, the EU is required to submit a new 2030 target before the end of 2020. Governments are split over what the new target should be, with some fossil-fuel-dependent countries like Poland seeking significant funding in exchange for support for a higher target.
Ahead of the summit, Denmark, Estonia, Finland, France, Ireland, Latvia, Luxembourg, the Netherlands, Portugal, Spain and Sweden backed at least a 55% cut in emissions by 2030, with some countries, like Sweden, Finland, Denmark and Luxembourg, likely to support a higher target of 60% or 65%. Germany and the Czech Republic also support a 55% target.
The European Commission has recommended at least 55% in net-emission reductions. According to the Commission's own impact assessment, this target would only translate into around 50.5-52.8% in real emission cuts in polluting sectors, like energy, transport and farming, because of the inclusion of emissions absorbed by forests and grasslands. It is as yet unclear where most European governments stand on what has been described as an "accounting trick".
The European Parliament has backed a 60% cut in emissions and has rejected the Commission's inclusion of carbon sinks to inflate the 2030 climate target. To have a chance of limiting global heating to 1.5°C above pre-industrial levels, avoiding the worst effects of climate breakdown, Greenpeace is calling for a minimum 65% cut in EU emissions by 2030.
The weeks preceding the EU summit have seen the first wave of climate protests since the pandemic, with demonstrators across 20 European countries and around 50 cities calling for urgent political action in line with science.
Contacts:
Sebastian Mang  – Greenpeace EU climate policy adviser: +32 (0)479 601289, sebastian.mang@greenpeace.org
Greenpeace EU press desk: +32 (0)2 274 1911, pressdesk.eu@greenpeace.org
For breaking news and comment on EU affairs: www.twitter.com/GreenpeaceEU
Publish your Press Releases
Interested in our free daily E-news