Spar Colruyt Group opens renewed Spar Winterslag on 6 October
The local supermarket strongly expands its fresh assortment
The renewed Spar store Winterslag in Genk will open its doors on Thursday 6 October. The old store was thoroughly renovated in the style of the newest generation of Spar stores. For example, the assortment of fresh products will receive even more attention and the store now also has its own butcher's department. The store at the Zonhoverweg is also renovated with the necessary attention for the environment, thanks to a renewed cooling system, among other things.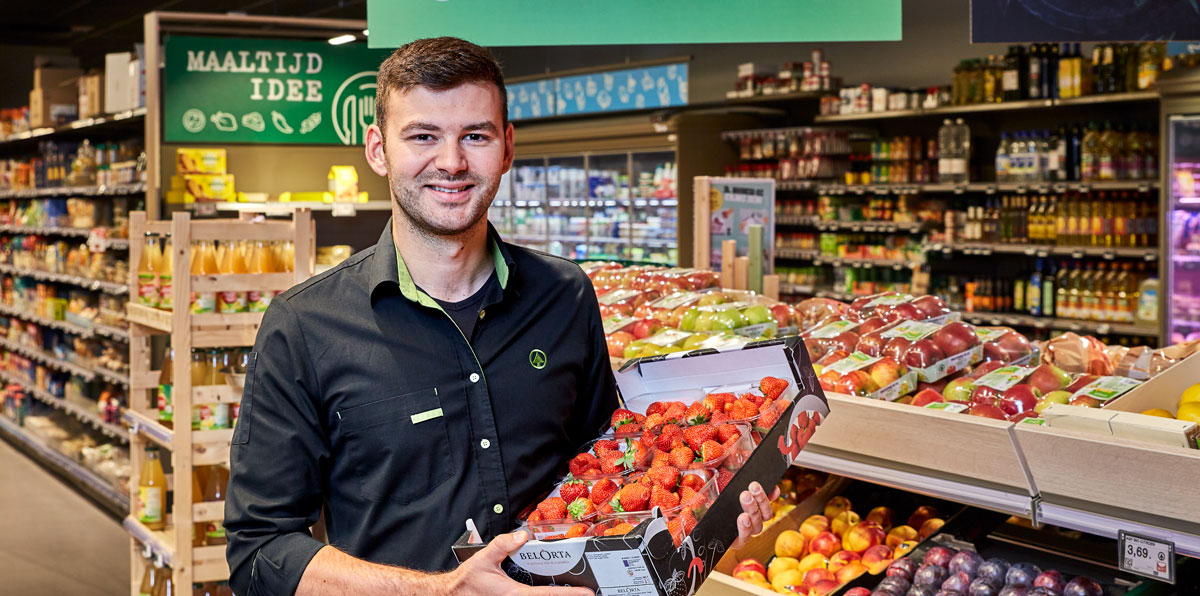 Oldest Spar store in the country
Spar Winterslag is one of the oldest Spar stores in Belgium and has existed for over 30 years. The store was therefore in need of renovation. The façade, car park and entrance were completely renovated, and the interior of the store also has a totally different look. For example, the old store space now serves as a stockroom and the old stockroom was turned into a modern designed store.
Cihan Gungor has been running Spar Winterslag since 2021 and is also the store manager of Spar Olen. In 2005, his father took over Spar Eindhout, and his sister and brother-in-law now help to run that store. So, the Spar entrepreneurship is really in this family's blood. Cihan's team has many experienced and loyal co-workers, who are ready every day to welcome customers personally and help them with a smile. The team can also count on the support of several enthusiastic students.
Focus on an even broader offer of fresh food
After a short closure of 3 weeks, the customers can come and discover their new store from 6 October. "In the new store space, there is room for an even broader and more clearly presented assortment of fresh products", Cihan explains. "And we now also have a butcher's department in our store where customers can pick their fresh meat."
​
​Spar Winterslag is also known for its extensive assortment of Italian, Spanish and Turkish products. "Our southern assortment is really one of the strong assets of our store. Our customers like to get inspired by these sunny products," Cihan says.
Eco-conscious renovation
Just like the other Colruyt Group store formulas, Spar is firmly committed to building sustainably and with a minimal ecological footprint. At Spar Winterslag as well, the environmental card was played. The new cooling system is a lot more environmentally friendly and emits 90% less CO2 than a traditional installation with chemical coolants. In addition, the heat released by the cooling system is used to heat the store. Almost all of the refrigerated cabinets in the store have now been provided with doors and consume a lot less energy.
Festive actions for the opening
On Wednesday 5 October, there is a festive opening reception from 18h to 21h. Customers are welcome to get acquainted with the renewed store and to enjoy a bite to eat and a drink. During the opening week, there will be a special folder with many nice discounts.
---
Contactinformation
​Cihan Gungor, independent entrepreneur Spar Winterslag and Spar Olen
​+32 (0)9 385 81 65
Colruyt Group press office
​+32 (0)89 36 32 12
​press@colruytgroup.com
Practical information
​Zonhoverweg 4,
​3600 Genk
Opening hours
​Monday to Saturday: 8:30 - 19:00
​Sunday: 8:30 - 17:00
---
About Spar Colruyt Group
​The more than 200 Spar stores are pleasant local supermarkets, run by skilled independent entrepreneurs who make their store unique by means of their own touches. They are located in village or city centres and distinguish themselves by their fresh products, sharp prices and the love of good food. The store surfaces vary between 300 and 1,200 m². More information at mijnspar.be.
About Retail Partners Colruyt Group
​Retail Partners Colruyt Group is the licence holder of Spar Colruyt Group in Belgium. It cooperates closely with more than 200 independent Spar entrepreneurs: apart from deliveries, it provides full support and a unique consultation model based on partnership. Retail Partners Colruyt Group also supplies fresh products and groceries to Alvo stores. The independent organisation buys and transports the goods and gives advice about assortment and promotion management. Finally, Retail Partners Colruyt Group supplies products to 120 independent retailers, including 31 Mini Markets. More information at retailpartnerscolruytgroup.be.
Publish your Press Releases
Interested in our free daily E-news