Poll: 1 in 2 Europeans against spending public money on meat advertising
Brussels, 21 June 2022 – Over half of Europeans agree that public authorities should not fund marketing aimed at increasing meat consumption, according to a poll Greenpeace France commissioned in eight European countries. [1]
The new findings come while the European Commission is considering whether to continue funding advertising campaigns that include meat products as part of its farm product promotion policy. In the past five years alone, the Commission has spent €143 million to promote meat products.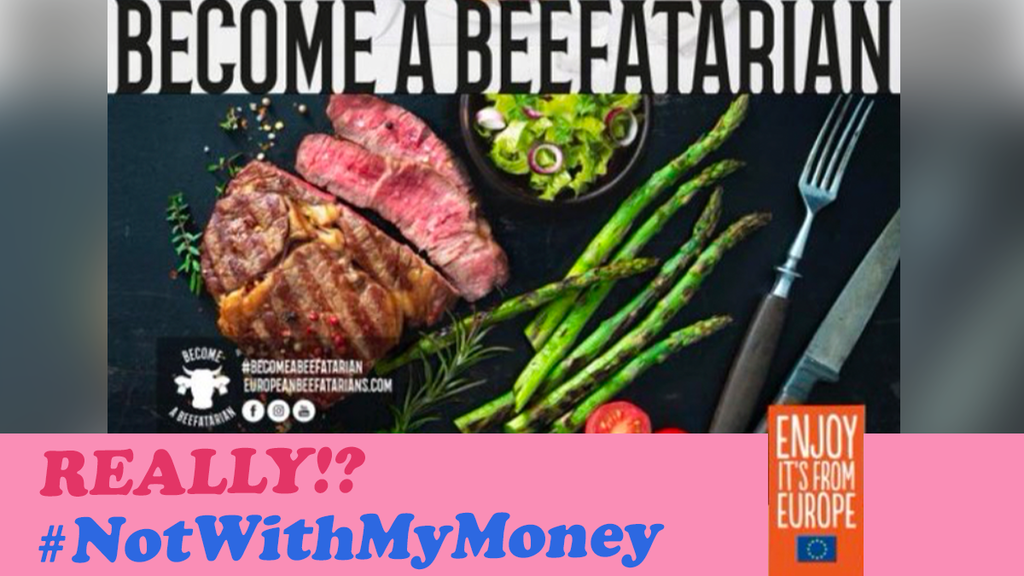 The poll found that 51% of all respondents believe that public authorities shouldn't be funding meat marketing, while only 22% think that they should. Excluding the people that neither agree nor disagree, almost 70% of respondents said that public authorities should not promote meat consumption.
**Full poll results available upon request**
Greenpeace EU agriculture policy director Marco Contiero said: "As if the climate crisis wasn't enough reason to eat less meat, the war in Ukraine has highlighted just how much grain is used as animal feed as people begin to worry about supply shortages. Eating less meat is better for our health, for nature, for the climate and the easiest way to make sure everyone has enough to eat. It's ridiculous that the EU and governments spend taxpayers' money to actively drive meat consumption in the wrong direction."
Public awareness about the negative impacts on climate and the environment caused by the current livestock production and consumption is still very low. Only 52% of all respondents see negative impacts on the climate as a result of the industrial production of meat and dairy. Only 50% of the people surveyed saw a link with deforestation and nature destruction, both locally and globally. Yet, scientists agree that animal farming makes a large contribution to the climate crisis and biodiversity loss.
Grain and Ukraine
Russia's invasion of Ukraine has led to concerns about supplies of wheat and other farm products. An 8% reduction in the use of cereals for animal feed in the EU would save enough wheat to make up for the expected deficit in Ukraine as a result of Russia's invasion, according to calculations by Greenpeace.
Conclusions and findings of the poll:

On the awareness of the animal farming impacts:
There is some awareness among Europeans of the negative impacts of industrial meat/dairy/egg production on animal welfare (68%)  and human health (60%), but less on the impacts on the climate (52%), forests and nature (50%) and water and air quality (54%).
The awareness is generally higher in Germany, Switzerland and France. In Spain, Poland and Denmark, public awareness is lower.
In all countries, awareness is higher amongst higher educated people. This difference is bigger than the differences between countries.
In most countries awareness is a little higher amongst women.
On regulating meat marketing:
According to this poll, almost 51% of the respondents believe that public authorities should not fund marketing aimed to promote and increase meat consumption. In Germany 60% of the population agrees with this statement.
Almost 49% agree that meat brands' marketing should not target children.
About 45% agree that supermarkets should not be allowed to promote 'cheap meat' or advertise huge discounts on meat products. Again, much higher support against cheap meat promotions in Germany (57%).
Almost 40% of the Europeans agree to restrict meat marketing in general. The biggest support for general restrictions can be found in Italy (47%), France (45%) and Poland (43%). People in Denmark (30%) and Spain (32%) are less enthusiastic.
The support for regulating or restricting meat marketing is generally bigger in Germany, Italy, Austria and France. In Spain and Denmark less support can be found.
36% agree that meat companies should not be permitted to sponsor public events or advertise in public spaces. Only 22% of the Danish population supports such a ban.
---
Contacts:
Marco Contiero, Greenpeace EU agriculture policy director:  +32 (0)477 77 70 34, marco.contiero@greenpeace.org
Greenpeace EU press desk: +32 (0)2 274 1911, pressdesk.eu@greenpeace.org
For breaking news and comment on EU affairs: www.twitter.com/GreenpeaceEU
Greenpeace is an independent global campaigning network that acts to change attitudes and behaviour, to protect and conserve the environment and to promote peace. We do not accept donations from governments, the EU, businesses or political parties. Greenpeace has over three million supporters, and 26 independent national and regional organisations with offices in more than 55 countries.
Publish your Press Releases
Interested in our free daily E-news