Politics trumps science as von der Leyen fiddles EU climate goal, Greenpeace
EU Parliament opens door to public money for gas under Just Transition Fund
Brussels – Ursula von der Leyen has backed a revised EU climate goal at her first 'state of the union' speech as president of the European Commission, where she outlined the bloc's priorities for the next year. But the new Commission target to cut emissions by 55% by 2030 falls far short of the cuts required by science to keep global heating to 1.5°C and avoid the worst effects of climate breakdown.
The European Parliament struck another blow to the EU's green credentials by opening the door to public money for gas under the Just Transition Fund, a pot of money supposedly to help European regions ditch their reliance on fossil fuels.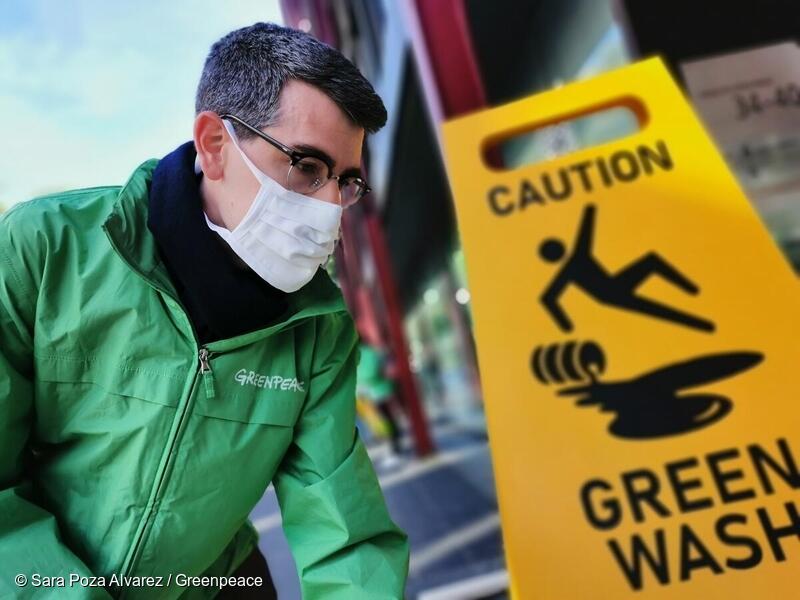 The Commission's 2030 climate target is expected to be further weakened by the Commission's intention to offset emission cuts in the most polluting sectors – such as energy, transport and farming – with emissions absorbed by carbon sinks like forests and soil. But these carbon removals cannot replace real emission reductions, particularly as the EU's forest sinks have reduced their ability to store carbon over the last ten years and are projected to continue doing so, mostly due to logging. Greenpeace calls on the EU to take urgent action to protect biodiversity and agree a stand-alone target to restore nature.
Greenpeace EU climate policy adviser Sebastian Mang said: "You can't beat climate breakdown with political convenience and accounting tricks. In her State of the Union address, president von der Leyen says the targets are too much for some and not enough for others, but there is no middle ground when it comes to science. This target would condemn us to a devastating climate crisis. Fudging the numbers to artificially inflate the EU's climate target just makes things worse. Restoring nature is essential, but must be additional to real emission cuts in the most polluting sectors."
Last week, the European Parliament's environment committee backed a 60% cut in EU emissions by 2030, without including carbon sinks, up from the current 40% target. To increase the chances of limiting global heating to 1.5°C, in line with Paris climate agreement, Greenpeace calls for a reduction in EU emissions of at least 65% by 2030.
Commenting on the European Parliament vote on the Just Transition Fund, Greenpeace EU climate and energy campaigner Silvia Pastorelli said: "Expecting local communities to kick their reliance on fossil fuels by funding gas is like trying to cycle faster by pedalling backwards. Only the oil and gas industry will benefit from investment in gas infrastructure that will be around for decades, when scientists are asking countries to completely decarbonise as soon as possible. This is ridiculous, especially when viable renewable and energy efficiency technologies are proven alternatives with more potential to create high-quality green jobs."
Following the vote in the EU Parliament, representatives of EU governments and the Parliament will negotiate a final deal on the workings of the fund. The size of the fund, which governments say should not exceed €17.5 billion, will depend heavily on parallel negotiations on the European budget and the new €1.85 trillion EU Covid-19 recovery package.
Climate uprising
A wave of climate demonstrations will take place between 23 September and 15 October, demanding stronger climate action and environmental, social and economic justice. The 'climate care uprising' protests will be spread across at least 19 countries and 55 cities, with a total of 70 locations, to hold governments and corporations to account and call for a green and just recovery from Covid-19.
Contacts:
Sebastian Mang  – Greenpeace EU climate policy adviser: +32 (0)479 601289, sebastian.mang@greenpeace.org
Silvia Pastorelli – Greenpeace EU climate and energy campaigner: +32 (0)496 122094, silvia.pastorelli@greenpeace.org
Greenpeace EU press desk: +32 (0)2 274 1911, pressdesk.eu@greenpeace.org
For breaking news and comment on EU affairs: www.twitter.com/GreenpeaceEU
Publish your Press Releases
Interested in our free daily E-news