New roadmap to decarbonise European transport by 2040
Brussels – New research, published by Climact and NewClimate Institute and commissioned by Greenpeace Belgium, offers a roadmap for decision-makers to decarbonise the European transport sector by 2040, powering it with renewable energy, without relying on biofuels. The analysis describes how Europe can swiftly revolutionise the way people and goods move and deliver a fair EU contribution to limiting global warming to 1.5°C. [1]
While greenhouse gas emissions (GHG) from other sources have been slowing or dropping, emissions from transport have continued to climb in the EU. Transport-related emissions were 28% greater in 2017 than in 1990. Transport alone was responsible for 27% of EU emissions the same year. As part of the European Green Deal, the European Commission promised to adopt a strategy for smart and sustainable mobility that "will address the challenge of climate neutrality and tackle all emission sources of transport."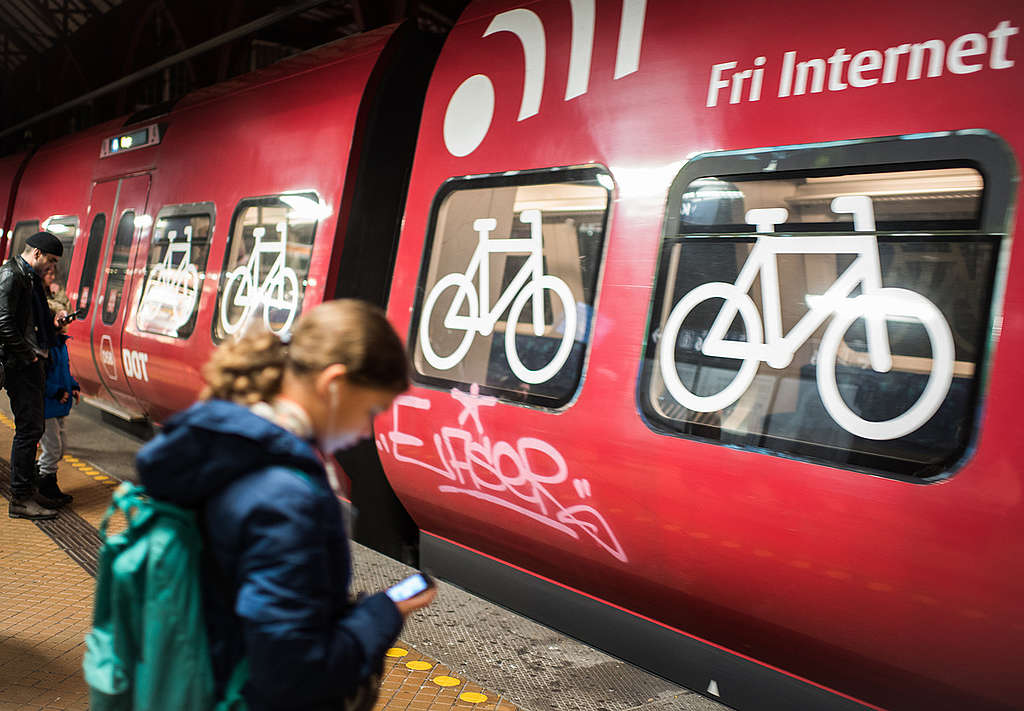 Greenpeace EU climate campaigner Lorelei Limousin said: "Investing public money in the middle of Covid recovery efforts to keep yesterday's transport system alive is a travesty. Aviation, shipping and road transport are among Europe's most polluting industries. Many of the major players have no shame laying off thousands of workers during the Covid crisis while lining their pockets with government bailouts. It is time to transform the way we move, shift to cleaner transport alternatives like trains, significantly reduce emissions, create good jobs, and make mobility equitable, resilient and sustainable for all."
The roadmap to decarbonising the European transport sector by 2040 draws on both technological and systemic levers to provide policy recommendations for decision-makers in the European institutions and national governments. It shows that technological levers such as switching to alternative technologies and increasing efficiency must be complemented by systemic levers, including the reduction of the need for transport, the shift to environmentally friendly alternatives and a full ban of internal combustion engines by 2040.
Essential elements of the transition outlined in the roadmap are improving infrastructure for cycling and walking in cities; significant and sustained investment in railways, trains and buses; banning short haul flights; phasing-out sales of new fossil-fuel based vehicles, and ending all investment in carbon-intensive transport such as additional airports and high-performance road infrastructure.
EU governments are expected to submit their Covid-19 national resilience and recovery plans to the European Commission between 15 October 2020 and 30 April 2021. The European Investment Bank, which invested almost €15 billion in roads and airports expansion between 2016 and 2019, will adopt a new climate roadmap by the end of 2020. In parallel, the European Commission is drafting a comprehensive strategy for smart and sustainable mobility, to be adopted by the end of 2020, just before the European Year of Rail.
For more information:
The Greenpeace report summary, including policy recommendations
The Climact and New Climate Institute full report
Note to the Editors
[1] The analysis uses the year 2020 as a benchmark, with estimates based on the latest data available. It does not include any post-covid data as they were not available at the time the modeling was developed.
Contacts:
Lorelei Limousin  – Greenpeace EU climate campaigner : +32 (0)477 79 04 15 lorelei.limousin@greenpeace.org
Greenpeace EU press desk: +32 (0)2 274 19 11, pressdesk.eu@greenpeace.org
For breaking news and comment on EU affairs: www.twitter.com/GreenpeaceEU
Publish your Press Releases
Interested in our free daily E-news