Greenpeace activists demand EU transport ministers transform transport and stop driving the climate crisis
*** Photos available here ***
Berlin / Brussels, 29 October 2020 – Greenpeace Germany activists projected the slogan "Stop driving the climate crisis #TransformTransport" onto the Germany Ministry of Transport in Berlin early this morning to stop the expansion of freeways and invest in infrastructure for climate-friendly alternatives such as rail, bus and bicycle transport. Under the leadership of the German presidency of the European Union (EU), EU transport ministers are meeting today to discuss the so-called Passau declaration initiated by German Transport Minister Andreas Scheuer (CSU).
Greenpeace transport campaigner Benjamin Stephan said: "The German transport minister says he wants digital technology to modernise transport in Europe but his government is actually destroying natural environments and pushing climate killing cars. European transport ministers must cancel new highway and airport infrastructure projects, stop protecting big polluters like airlines and carmakers, and instead use public money for public transport that ensures affordable access to all and a just transition for workers".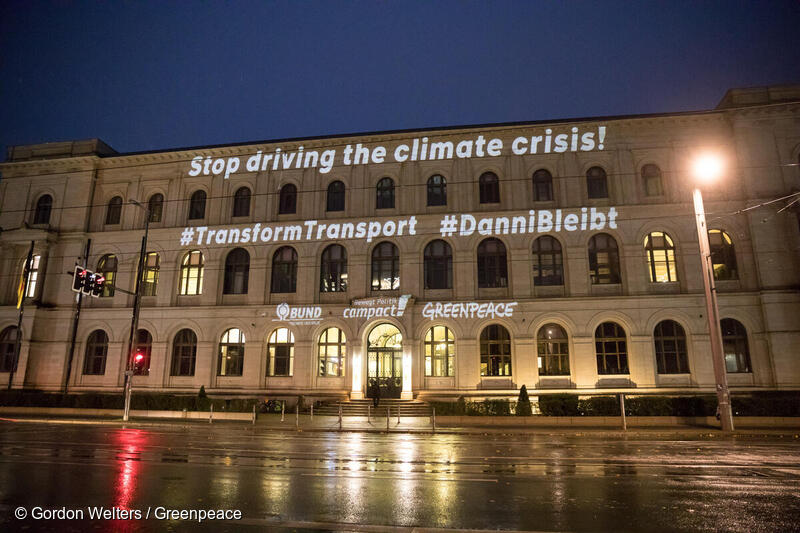 While hosting the meeting, the German government is simultaneously clearing forest in Hesse in order to build a new section of the A49 freeway. The European Investment Bank (EIB) has recently loaned the highway project €264 million, despite its claims of becoming "Europe's climate bank". On 21 October, Greenpeace sent a letter to the EIB's president and board of directors asking them to cancel its loans for motorways and airports – including the A49 – and to adopt strong climate roadmap.  85 ha of intact mixed forest are at risk due to the controversial project, and the clearing has already begun.
In just a few weeks, more than 220,000 people have signed a petition calling for the Dannenröder forest to be preserved as a climate sink and for the expansion of the freeway to be halted. The petition was launched by Campact, BUND and Greenpeace.
Climate-damaging greenhouse gas emissions have risen 28 percent in Europe since 1990, and are still rising. A new study conducted by the Belgian research institute Climact and the Cologne-based NewClimate Institute on behalf of Greenpeace describes how this trend can be reversed and transforming transport can help Europe achieve its climate goals. Ending all investment in carbon-intensive transport infrastructure – such as funding airport and freeway expansion – which locks us into carbon-intensive mobility – is an essential requirement to decrease transport emissions according to the research. Since the start of the 21st century freeways have increased by over 22,000 km in the EU, that is over 40 percent more motorway kilometers now than in 2000. On average that is over 1,100 km of new freeways each year. In the same period, the European rail network has shrunk.
While the German presidency of the EU is suggesting that EU Transport Ministers focus on digitalisation to make transport more climate friendly, the new study shows that technological tweaks will not suffice and that we need to immediately introduce system wide measures to reduce mobility needs and shift to cleaner transport in Europe. The use of road and air transport must significantly decrease for passengers and freight, while public transport, rail, shared vehicles, walking and cycling must be developed. Specifically, by 2040, the number of cars on the road must be halved and the number of trucks must fall from 6 million today to 3.6 million, while rail transport of goods must double to reach 58 percent. The sale of vehicles with diesel or gasoline engines, including hybrids, must end by 2028, while support for transcontinental rail networks and local and regional public transport as well as cycle and footpaths must be expanded.
Contacts:
Benjamin Stephan, Greenpeace Germany transport campaigner: +49 (0)151 57208151, benjamin.stephan@greenpeace.org
Lorelei Limousin, Greenpeace EU climate campaigner: +32 (0)477 79 04 15 lorelei.limousin@greenpeace.org
Simone Miller, Greenpeace Germany press officer: +49 (0)171 8706647, simone.miller@greenpeace.org
Greenpeace EU press desk: +32 (0)2 274 1911, pressdesk.eu@greenpeace.org
For breaking news and comment on EU affairs: www.twitter.com/GreenpeaceEU
Publish your Press Releases
Interested in our free daily E-news