EU Parliament can rescue transformative recovery plan, Greenpeace
Brussels – The European Parliament will challenge governments to boost EU plans for a green and just recovery to the coronavirus pandemic, following a preliminary deal reached by EU leaders earlier this week.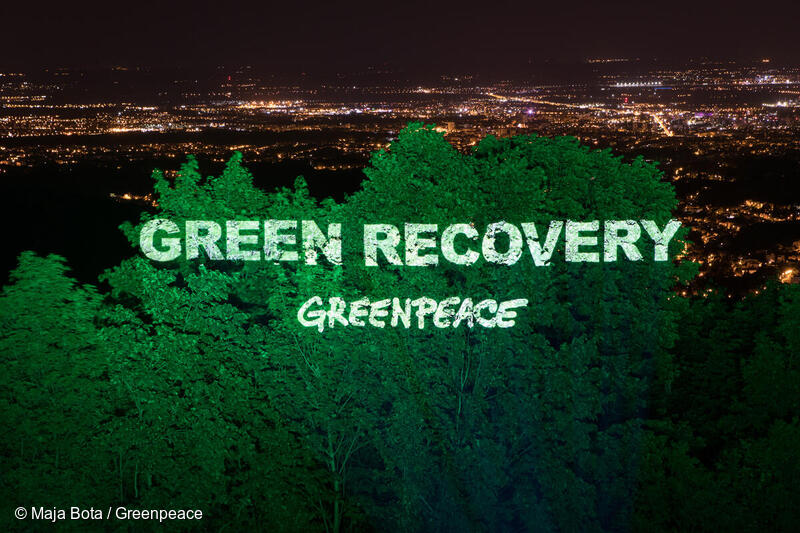 The Parliament, which has the power to reject the deal on the EU's seven-year budget and a coronavirus recovery fund, is expected to criticise governments for putting short-term political gain above environmental regeneration and common European interests.
"The plan agreed by governments is neither green nor just – the Parliament is right to hold them to account. Without clear rules to ensure polluting industries and authoritarian governments do not receive public money, this deal is a double edged sword: good investments could be cancelled out by support for outdated and polluting industries. Narrow political interests must not trump public health and a green and just recovery for all Europeans."

Sebastian Mang, Greenpeace EU climate policy adviser
The Parliament wants to restore funding for health, research and climate, after government leaders backed cuts to EU-funded programmes. The Parliament also wants to ensure 10% of the EU's recovery funds stimulate nature protection. On Monday, governments backed a 30% climate spending target, but a lack of binding rules means some of the budget and recovery funds could end up being used by polluting industries like fossil fuels or industrial farming. The Parliament says climate and nature funding should be guided by the EU's green taxonomy, the bloc's rulebook on sustainable finance, and calls for the phaseout of fossil fuel subsidies.
The Parliament is also expected to hit out at EU leaders for weakening efforts to make access to funds conditional on governments upholding the rule of law, fundamental rights and democracy.
Negotiations between the Parliament and governments on the EU budget and recovery fund are expected to start in earnest in September.
Greenpeace has set out three fundamental tests to measure whether the EU recovery plan could lead to a green and just recovery, or whether it would entrench the current fossil-fuel and waste-intensive economic system, hidden under a coat of greenwash.
Contacts:
Sebastian Mang  – Greenpeace EU climate policy adviser: +32 (0)479 601289, sebastian.mang@greenpeace.org
Greenpeace EU press desk: +32 (0)2 274 1911, pressdesk.eu@greenpeace.org
For breaking news and comment on EU affairs: www.twitter.com/GreenpeaceEU
Publish your Press Releases
Interested in our free daily E-news