EU COVID-19 response must be caring, fair & green, not a blank cheque for polluters
Brussels, 26 March 2020 – The European Union's response to the Covid-19 pandemic must focus on saving lives and help make our societies fairer, greener and more resilient to future crises, said Greenpeace, as European political leaders met on Thursday for a virtual summit.
Greenpeace EU democracy policy adviser Ariadna Rodrigo said: "Years of EU-enforced austerity have gutted public services and today we are seeing the terrible consequences, from overwhelmed hospitals to millions of people losing their jobs. Governments must put saving lives and protecting people first, and use economic support measures to build a resilient society for the future. Corporate bailouts must not be blank cheques, but conditional on the protection of workers and a transition to a just and green society. Governments and the EU should not repeat the mistakes of the 2008 financial crisis and hand out cash to big corporate players with no strings attached."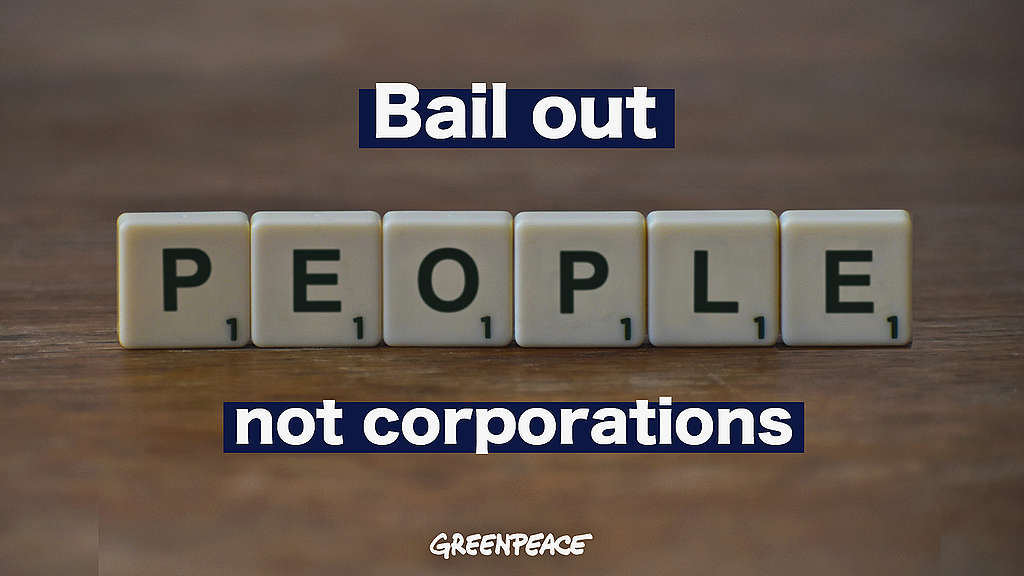 Greenpeace, along with many others, is calling for any EU support or stimulus package to help build a fairer and more resilient society, based on better health care, employment standards, social and environmental protections.
In its inaugural European Green Deal package, the European Commission set the stage for an environmental transition. The current Covid-19 crisis and the resulting economic downturn demonstrates the profound need for the social and economic transition to be both just and green, enabling us to be resilient in the face of crisis, including health, inequality, climate and biodiversity.
*** Read our briefing on how the EU's response to the Covid-19 pandemic could make our society more resilient.
Contacts:
Ariadna Rodrigo  – Greenpeace democracy EU policy adviser: +32 (0)479 99 69 22, ariadna.rodrigo@greenpeace.org
Greenpeace EU press desk: +32 (0)2 274 19 11, pressdesk.eu@greenpeace.org
For breaking news and comment on EU affairs: www.twitter.com/GreenpeaceEU
Publish your Press Releases
Interested in our free daily E-news