COP27 breakthroughs essential to avert climate catastrophe, warns WWF ahead of UN talks in Egypt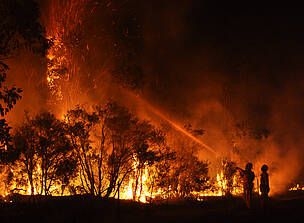 WWF is calling for a clear and decisive shift from abstract promises to real-world action ahead of the opening of the COP27 climate summit in Sharm El-Sheikh, Egypt. The organisation warns global leaders that right now, the climate crisis is moving faster than our response to it, and that people and places all over the globe are reeling from the catastrophic consequences of inaction.Summary
WWF urges world leaders to urgently shift from ambition to action, as the goal of limiting warming to 1.5°C is slipping away.
WWF urges European leaders to settle on a strong Fit for 55 package that will lead to an enhanced Nationally Determined Contribution (NDC) and to show its commitment to reduce the consumption of fossil fuels, as well as its dependence on imports of these fuels.
After another year of climate devastation around the world, WWF calls for major breakthroughs on financing for adaptation and Loss and Damage for a successful and equitable COP27 outcome.
WWF highlights pressing need for nature-based solutions to come to the fore as world gears up for critical biodiversity COP in December.
As the summit takes place in the context of geopolitical tensions and an increased focus on energy security around the world, WWF calls on countries to come together to deliver strong outcomes that will provide solutions for a safe and secure future. Without rapidly transforming our energy, food, transport and land use sectors and eliminating dependence on fossil fuels, geopolitical tensions will only worsen.

Shirley Matheson, Global NDC Enhancement Coordinator at WWF European Policy Office, said:
"Energy efficiency and renewable energy remain the key tools for the EU to achieve energy security and climate action. In that regard, it is extremely important that the EU and its Member States acknowledge this link in their position and show that they have no intention to expand global gas supplies, nor to expand fossil fuel usage as a reaction to the current war in Ukraine,"

WWF is also calling for nature to be given a more substantive role in discussions this year. The climate crisis is driving nature loss, and the destruction of natural ecosystems is in turn fuelling the climate crisis. But nature can be part of the solution. WWF urges leaders to embed nature-based solutions within climate action and create momentum ahead of the December COP15 biodiversity summit in Montreal - humanity's last chance to reset its broken relationship with nature.

Manuel Pulgar-Vidal, WWF Global Climate and Energy Lead, and COP20 President, said;
"Time has never really been on our side, but now it is our biggest enemy. The extent of climate breakdown is already clear across the globe, devastating lives and livelihoods, and further accelerating biodiversity loss. We are way off course to keep warming to 1.5°C."

"A huge gap remains between what is needed, what countries have promised, and what is actually happening in terms of reducing emissions. We don't have time for more delays and excuses! Countries must deliver on past promises and raise their ambition and action to stop the climate crisis spiralling further out of control."

After a year with unprecedented floods in Pakistan that left a third of the country underwater, and other parts of the world devastated by heatwaves, droughts, fires, and intensifying tropical storms, WWF urges parties to secure breakthrough agreements on adaptation and Loss and Damage financing. With disasters leaving vulnerable countries and communities urgently in need of support, it is essential that the international community comes together to help them to adapt, build resilience and address the unjust costs of the climate crisis.
Publish your Press Releases
Interested in our free daily E-news