2035 ban on oil-burning cars too late for 1.5°C climate target
Brussels – EU governments patched up a deal to end the sale of new cars with internal combustion engines, but the 2035 deadline is too late to limit global warming below 1.5°C. For the EU to honour its commitments to the Paris climate agreement, sales of new petrol, diesel and hybrid cars must end by 2028, according to calculations commissioned by Greenpeace Belgium.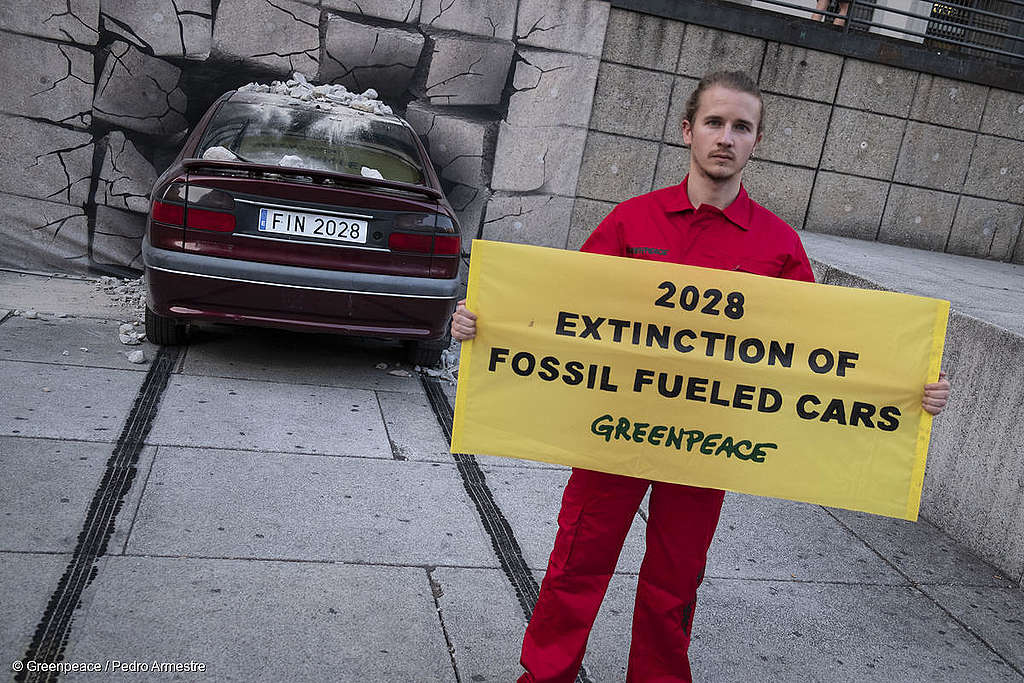 A 2028 phaseout of oil-burning cars and stricter intermediate targets would save EU drivers €635 billion on fuel, and would cut CO2 emissions by 1.7 Gigatonnes by the end of the 2040s, according to new analysis by Greenpeace Germany. Transport accounts for 30% of the EU's total greenhouse gas emissions and almost two thirds of the oil used in the EU.
Greenpeace EU transport campaigner Lorelei Limousin said: "Banning new oil-burning cars is the right thing to do, but a 2035 phase-out is much too late to limit global heating to 1.5°C and keeps us locked into oil dependency that bankrolls wars and hurts peoples' pockets at the pump. Europe desperately needs to decarbonise transport, but ministers missed a golden opportunity. It is now in the hands of national authorities to cut car usage, boost public transport, and make more liveable cities and towns where more people can cycle or walk."
After multiple attempts to weaken the ban on new oil-burning cars by 2035 proposed by the European Commission and backed by the EU Parliament in early June, national governments also opened the door to further promote expensive and inefficient synthetic fuels that are harmful to the environment and the climate. Ministers finally agreed to reduce CO2 emissions by 55% for cars and by 50% for vans by 2030 and by 100% for all vehicles by 2035, but shielded small producers of luxury cars.
The Czech Republic, which will take over the presidency of the Council in July, will negotiate a compromise with the European Commission and the European Parliament in the autumn. Greenpeace calls on the European Parliament to reject all attempts by national ministers to water down the ban on cars with internal combustion engines and hold on to its position for a full ban on internal combustion engines in the upcoming negotiations.
The revision of the CO2 emission performance standards for new passenger cars is a central piece of the EU's Fit For 55 climate package to reduce greenhouse gas emissions under the EU Green Deal. Greenhouse gas emissions from transport in the EU have risen by over 25% since 1990. Transport is the only sector in the EU where CO2 emissions have been rising since 1990 when they should be dropping rapidly.
Contacts:
Lorelei Limousin, Greenpeace EU transport campaigner: lorelei.limousin@greenpeace.org, +32 (0)477 79 04 15
Greenpeace EU press desk: +32 (0)2 274 1911, pressdesk.eu@greenpeace.org
For breaking news and comment on EU affairs: www.twitter.com/GreenpeaceEU
Greenpeace is an independent global campaigning network that acts to change attitudes and behaviour, to protect and conserve the environment and to promote peace. We do not accept donations from governments, the EU, businesses or political parties. Greenpeace has over three million supporters, and 26 independent national and regional organisations with offices in more than 55 countries.
Publish your Press Releases
Interested in our free daily E-news