The EU Green Deal and the Future of Parking – Press Conference of the 20th Congress of the European Parking Association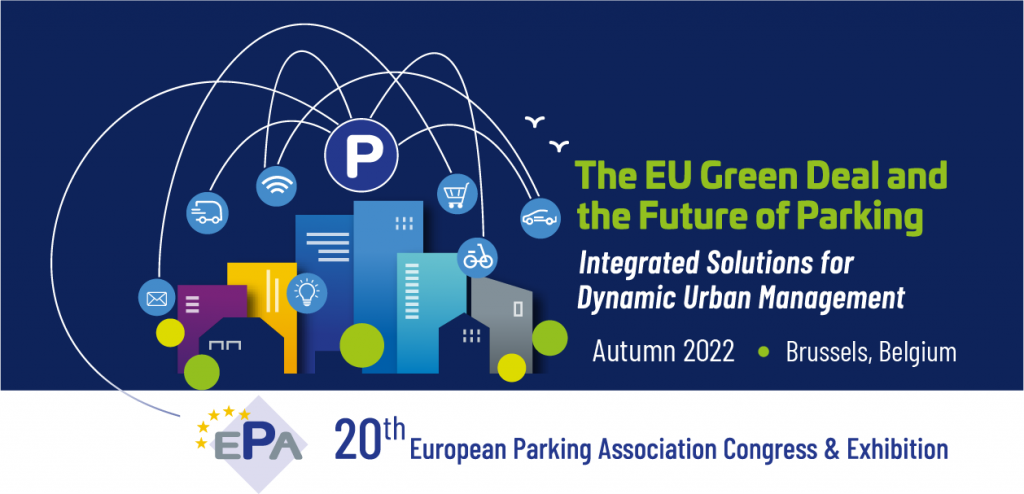 This Press Conference will be held on
Monday 12 September at 11.30
at SQUARE Brussels Meeting Centre
Mont des Arts, 1000 Brussels – Glass Entrance
Metro station Central Station
After the press conference in the Cooper Hall, the press will be invited to join the lunch in the exhibition hall which will be followed by the Opening session they could attend too
This year's Congress will be an exceptionally important event for all the parking industry, the mobility eco system, local administrators and citizens. After the disruption of the pandemic, rapid change is further disrupting established urban planning models. The impact of that change cannot be overstated. The various congress sessions will examine the effects of the political, technical and business factors that are driving change and highlight the potential challenges and opportunities in meeting the challenges of The Green New Deal.
Panel of the Press Conference
– Laurence A Bannerman: President of European Parking Association,
– Roland Cracco: President of the Belgium Parking federation
– Theo Thuis: President of the Scientific Committee
The program summary of the Congress is as follows:
On Monday, the Congress opens with three plenary presentations:
– The EPA Survey on the state of electric vehicle charging in the EU – opportunities for the parking sector;
– The Green Deal: The European Commission's view on integrated solutions for dynamic and sustainable urban management;
– Mobility space 3.0: ERTICO's view of the role of parking in the world of multimodal mobility.
The topics will be discussed by a panel of distinguished international experts and will focus on the future of parking in the urban mobility scene for the benefit of over 500 delegates from more than 30 countries.
The opening session will set the scene for the next two days with six parallel technical sessions and further plenary sessions:
DISCOVER THE FULL PROGRAMME OF THE CONGRESS
About the European Parling Association
EPA, today represents 23 European countries with over 40 million controlled parking spaces. The service sector has decades of on and off street management experience related to the static part of the mobility chain and is now more dedicated than ever to positively promote and manage integrated solutions and services for vehicles, not only private motor cars.
TO ATTEND THE PRESS CONFERENCE
For further info: Theo Thuis: Chairman of the Scientific Committee
theo.thuis@q-park.com – mob: +31621253057
Publish your Press Releases
Interested in our free daily E-news